isn't she lovely !!! Beth and I took off a couple of weeks ago to
Hilton Head Island
with a plan to hit every thrift store we could find. It took us almost 8 hours but we got to plunder through them all.. It was one of those days where we really didn't find much but what we did find was perfect.. She picked up a beautiful handmade wrought iron tiered plant stand that was fabulous and I found this adorable little chandelier for $15
she looked a little rough but once she got a bath and all the electrical parts out she was perfect.. I am using tea light candles where the wiring was.
I also found this large wire tray for $4.00 that I filled with shells and in the top of the tray is an old green quart jar that I filled with small shells and a candle
and together on the back porch they are beautiful with my
Annie Sloan

Antibes Green
chairs and my own mix of a few of her paint colors, table.
and now that I have brought up that awesome
Annie Sloan paint
again... Here is a piece that I picked up awhile back that was an awful blond color. I stained and waxed the top and again a mix of Annie's colors for the base. Some new knobs and poof she's pretty...
and then there was these hideous I mean what fool woman painted those chairs pink with a coral colored wall behind them. ME!! yep I started messing with Annie's
Scandinavian Pink
which is a beautiful color but I wanted it just a tad bit lighter and that pink is what I ended up with..
I had been hearing about
Coco
and knew it was just what I needed to fix this mess.. I have not waxed any of the
Coco
pieces yet but I will. This is by far my favorite of all the colors I have tried. I think it would work in any setting..
We still have to get the floor finished on the porch but it's coming along.. Oh wait that rug above was one of my thrifty finds from before Christmas it is a soft natural wool 12' x 15' in perfect condition that I paid $50 for there was 2 of them at that sale and I am still kicking myself for not buying both..
and what the heck are these you ask ?? These are my mothers end tables and there is a matching coffee table
woohoo
I know ya'll all want these...
They are over 50 years old and have had a gazillion different paint jobs by Miss Lois. I finally talked her into letting me bring them home and redoing them for her. I am having so much fun with these and can't wait to show them off ..
On a different note if you are like me and leave you computer on when you are not home PLEASE be careful.. Last week I walked into our home to what smelled like burnt bacon and a loud pop. When I reached the living room my computer monitor was boiling smoke and hot as fire. I don't even want to think about what would have happened if I had not walked in when I did.. So Please, Please be careful ..... I have spent the last week trying out new monitors 17"
to small
~ 23"
to big
~ 20"
just right ...
Everything looks so different. It is taking some time to get used to but I'm loving it. Everyone's blogs, words & pictures are so much more crisp and prettier now... and with that being said I'm off to play at
House of Grace for Twice Owned Tuesday
and
Coastal Charm for Nifty Thrifty Tuesday
come on and join me there is always something fabulous to see..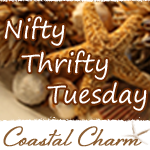 hugs from Savannah, Cherry